About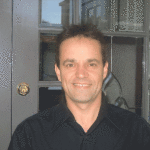 Woodman New Zealand. Michael Bangs who started using the system in the UK in the mid 1980's found Woodman allowed him and his father to put the pricing information in a format where there was consistency in pricing and importantly finding the desired profit margins required to sustain a business.
It also gave the ability to passdown complex estimating information with ease and accuracy from father to son. On emigrating to New Zealand in 1995 Michael decided to take up the agency for Woodman Software within New Zealand (Woodman Woodworking Software).With a Joinery background he has been able to give the backup and support expected by his clients.E Mail :- michael@woodman.co.nz

Kevin and David are the brains behind "Woodman".
"It all started around 1980", says Kevin. "I left university with a degree in computer science and started working for my father's joinery company. My instructions were to write software that could transform joinery estimating from a 'black art` into a scientific process, not an easy task! We formed our own software business in the mid 1980's and have been developing and selling the Woodman package to European woodworking businesses ever since."
Looking for a life style change Kevin moved to Australia.
Now living in Australia Kevin has been able to develop "Woodman" to the needs of the UK, Australian and New Zealand markets.